Making coffee
Blending of different coffee species, which complement one another in terms of their features, helps to produce a balanced product where desirable qualities, such as taste, aroma, color, saturation and attractive appearance, are intensified.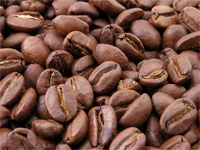 Roasting is one of the most important stages for producing a decent coffee. When roasting green coffee grains increase in volume and change their color from green to brown. The taste of coffee is formed due to many complex aromatic chemical compounds. The roaster chooses optimal modes of roasting depending on which compounds he wants to achieve. As a rule, there are 4 degrees of roasting. The lightest degree of roasting is usually called Scandinavian, darker degree is Viennese, even darker is the French roast. The darkest roast called Italian.
In European coffee tradition the dark roast conventionally used for espresso, while the light roast rather used for brewing in the French press.
The connoisseurs of the Specialty coffee distinguish more degrees of roasting.
Stage
Properties of beans

Weight  loss

Agtron

Temperature  (F)/(C) 

Indications
Unroasted
Raw beans, humidity – 12%
0,0 %
99—81

Room




temperature

Green (light gray with a green tint) and smooth.
Cinnamonic
Vapor makes beans to expand
13,0 %
80—75

200—275/         93—135

Light brown color. Slightly saturated taste, faint aroma with a bread smell. No oil on the surface.
American
Beans continue to expand. "The first crack" is heard. Acid content is higher than sugar.
14,0 %
74—65
335—375/         168—190
Moderately light brown color, dry surface, slightly sour taste. The difference between grains, peculiar to green beans, is kept. Beans increase in size.
City
Beans are greatly expanded. Ends with a stage of "the first crack".
15,0 %
64—60
390—425/         198—218
Beans crack from the gases evolved.
Full City
Beans are greatly expanded. Acid and sugar are balanced. "The second crack" stage starts.
16,5 %
60—50
435—445/         223—229
Brown color of medium intensity, mostly dry surface, sometimes with traces of oil. Balanced acidity, full saturation of taste.
Viennese
The major part of gas is exuded. The end of "the second crack" stage.
17,0 %
49—45
445—455/         229—235
Bright brown color, drops of oil on the surface, bitter-sweet flavor tones. Muted acidity, strong saturation.
Espresso
Odor decreasing, caramelization of sugar.
18,0 %
44—35
455—465/         235—240
Dark shiny surface with spots of oil. Bitter-sweet taste prevails. Muted acidity.
French
Drastic reduction of acidity, caramelization of sugar.
19,0 %
34—25
465—475/         240—246
Dark black color, grains covered with oil. The smell of burning oil. The differences peculiar to green beans completely muted. Bitter and bitter-sweet taste prevails.
Italian
Bean loses its character coffee aroma.
20,0 %
24—15
475—505/         246—262
Black dry shiny surface. Burnt bitter taste prevails.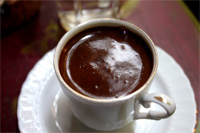 Turkish coffee
Acidity - is the specific term that means pleasant sharpness of taste, rather than sour taste of half-roasted coffee.
Grinding 
Roasted beans are ground in a coffee grinder. The degree of grinding depends on further method of preparation. The grains of the coarse grind are used for preparation in the French press and filter coffee machines, whereas the fine grind is proper for espresso machines. Extra grind (or "dust") applied to preparation of "The oriental coffee" (in cezve).
The ground coffee fairly quickly loses some flavor and aroma, therefore it is recommended to grind the grains immediately before brewing.